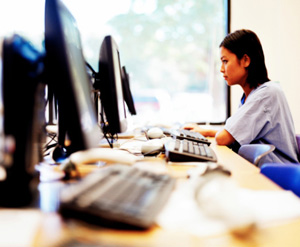 The Computer Learning Lab, with FREE access to the Internet, is available for use by students enrolled in an Adult Reading Center program. Students may use the lab anytime during the 65 hours per week that the Center is open. Self-paced interactive learning software is installed on each computer. If space is not available in classes or with a one-on-one tutor, adult learners are encouraged to begin their learning experience in the Computer Learning Lab.
Bilingual Computer Literacy Class
The bilingual Computer Literacy Class is a collaboration with the Mexican Institute of Greater Houston and has given adult learners the opportunity to learn much needed skills to succeed in the workplace. This 100-hour class teaches not only the basic computer skills but adult learners also learn Microsoft office programs. Upon successful completion of the class, adult learners receive a Certificate of Completion from the Mexican Institute and the University of Houston.
For more information on the Computer Literacy or other classes and to schedule your orientation, call the Adult Reading Center at 281.485.1000.