The Adult Reading Center held its 14th Annual Red Hat Literacy Luncheon at the Knights of Columbus Hall in Pearland on March 23rd. The event raised $70,240 for Adult Literacy, GED and Citizenship programs.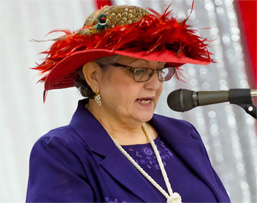 CEO Dale Pillow
With more than 400 attendees from the Pearland and Houston metropolitan area, fun was all around the room. Lety Jimenez-Ler won the Red Hot Apron  raffle and took home $3,240 in gift certificates to local grocery stores, bars and restaurants, all donated by our community.   Mona Chavarria was the top bidder for the live auction item that included a Memorial Weekend at Seaside Resort, Schlitterbahn passes and 6pk of Bakfish Beer.   All the money raised at the Luncheon will be used towards funding the programs offered by the Adult Reading Center free of charge to students.
The support of the community comes in various other ways and represents the success of the fundraising. Dale E. Pillow, President and CEO of the Adult Reading Center, believes the event carries great importance for all of the parties involved.: "All of our adult learners who are enrolled in our programs benefit from the donations the Red Hat Literacy Luncheon receives. The mothers and fathers in our programs tell us about being able to get better jobs, their promotions, and being able to help their children with their homework," she said.
Mark your calendars now for next year's luncheon to be held on March 22nd, 2018 at the Knights of Columbus Hall in Pearland.
"Our guests also benefit from attending the Luncheon. It is a great opportunity to network and interact, since we have many local businessmen and women, judges, county commissioners, and city council members coming to the event, participating as well serving as Celebrity Waiters. They also have a chance to support us and learn about literacy through our guest speaker's speech," emphasizes Mrs. Pillow.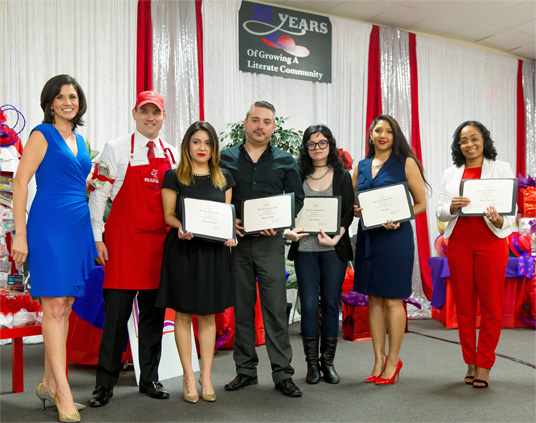 Student Scholarship Winners
The luncheon this year spotlighted Adult Reading Center students Michael Walls, Francesca Zamora, Joanna Marquez, Olivia Aguilar, and Shyanne Kuykendall who were awarded $750 scholarships in their pursuit of higher education. The Center is proud of their GED students working to earn their High School Equivalency certification with many of them moving on to college courses.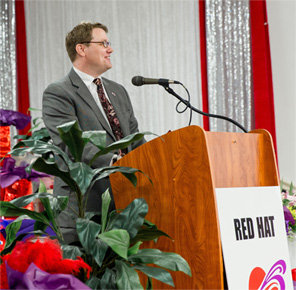 Author Jonathan Sandys
Honorary Red Hat Literacy Luncheon Chairs Roy and Virginia Castillo welcomed guests and ABC13 News Anchor Elissa Rivas served as Mistress of Ceremonies. Guest speaker Jonathan Sandys entertained the audience with a motivational speech that drew on the experiences of his great-grandfather Sir Winston Churchill. Jonathan's message of courage, faith and integrity inspired the audience to "lead Like Churchill". Sandy left his audience with these words, "My great-grandfather inspired others through the power of his words, it is my greatest ambition to do likewise and, in doing so, pass on the greatest gift any human being can possess: knowledge." The guests of the 14th Annual Red Hat Literacy Luncheon left the event with the spirit of giving back and supporting the literacy cause. Click here for more information on how you can support the Adult Reading Center as a volunteer.